Helensburgh's first railway station was opened on 1 January 1889. It was located between two single line tunnels at the junction of Tunnel Road and Vera Street. The short Helensburgh Tunnel was at the northern end of the station and was 80 metres long. The much longer Metropolitan Tunnel at the southern end was 624 metres long. This 1905 photo is looking south to the Metropolitan Tunnel and shows a siding next to the single line.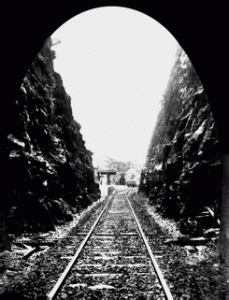 This photo was taken from inside the Metropolitan Tunnel looking towards the shorter Helensburgh Tunnel.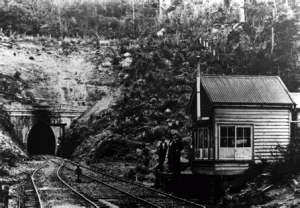 This 1890 photo shows the southern end of Metropolitan Tunnel with a branch line to the colliery on the left.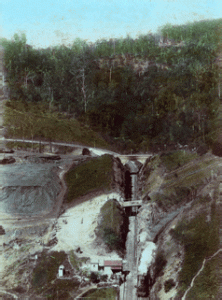 This photo was taken from above the southern portal and shows the main line and the colliery's branch line.


Helensburgh's first railway station was closed in 1915 when the line was duplicated. A new station was opened on a deviation. The two tunnels were no longer used. In May 1928, the colliery completed works to use the Metropolitan Tunnel as a reservoir. A concrete plug was installed in the southern end of the tunnel.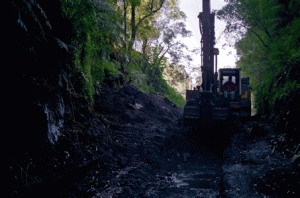 In April 1995, Metropolitan Colliery decided to clear sediment and debris at the northern entrance to the tunnel. During this work, a few bricks of the original platform were unearthed after 2 metres of soil had been removed. Allan House from Helensburgh Landcare approached the colliery and sought an excavation of the site down to line level. The colliery agreed provided the project was supervised by Allan.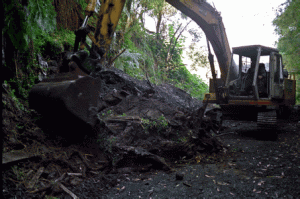 Excavation work underway in April 1995. The top of platform can be seen in the lower left corner.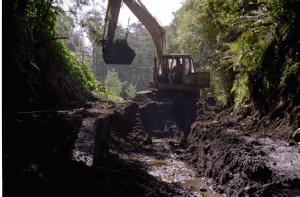 Excavation work underway in April 1995.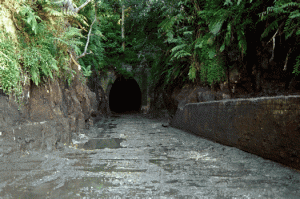 April 1995. The cutting was excavated to bedrock and 22 metres of the original platform unearthed.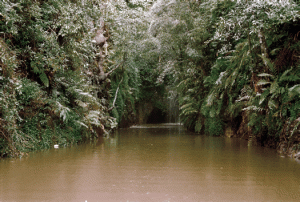 After heavy rain over several days, the area was flooded late in 1995. The platform was completely submerged.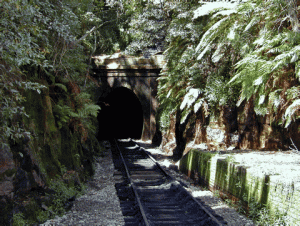 In 2001, a Centenary of Federation grant enabled Helensburgh Landcare to clean up the site, lay ballast and then lay track taken from Metropolitan Colliery on the other side of the tunnel.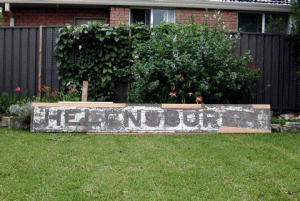 The original Helensburgh Station sign dating back to 1889 was recovered from the gully next to the new station and restored. The brass letters were not found, however, the outlines were sufficient for new letters to be made though not in brass.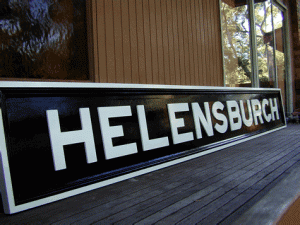 March 2002. The restored Helensburgh Station sign in its original white on black colours.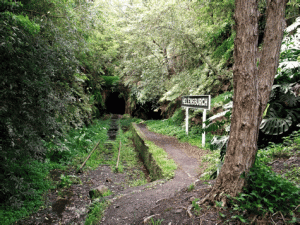 A photo taken of the site in 2011. The site is frequently visited by locals, trains buffs, photographers and, at night, by those wanting to see the tunnel's glow worms.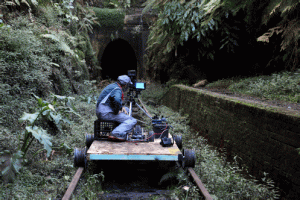 2011. This photographer went to great lengths to make a movie clip centred on the tunnel.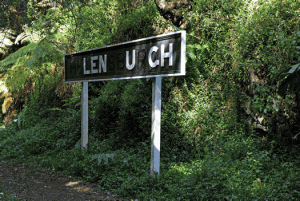 The station sign was vandalised in 2012 and removed. It has since been restored and was reinstalled on the platform in 2015.